Printing walkout statements
Walkout statements are receipts of charges posted and payments made on the day of treatment. You can print these statements to provide your patients with detailed account statements and appointment reminders.
To print a walkout statement
1.   In the Accounts toolbar, click Print, and then click Walkout.
The Walkout Statement dialog box appears.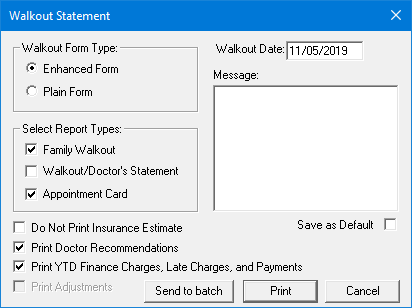 2.   Under Walkout Form Type, select the form that you want to use.
· Enhanced - Prints a professional looking form with lines and shading.
· Plain Form - Prints a walkout statement that requires less time to print but does not have the shading that prints on the enhanced form. Can be used in conjunction with a pre-printed form.  
3.   Under Select Report Types, select the report type that you want to print.
· Family Walkout - Prints completed procedures, payments, and adjustments for the family that were posted on the walkout date. The total charges and credits for the day and the family's current account balance print also. The next appointment for each family member prints at the bottom of the statement.
· Walkout/Doctor's Statement - Prints all of the patient's procedures for the walkout date. You can use this statement for insurance submission.
· Appointment Card - Generates a formatted appointment reminder card that you can print on a 4x6 card.
4.   Select the report options that you want.
Some options may be unavailable depending on the reports you selected.
· Do Not Print Insurance Estimates - Excludes any insurance estimates on the family walkout or the walkout/doctor's statement.
· Print Doctor Recommendations - Prints doctor recommendations for the completed procedure codes or notes on either type of walkout statement. To input doctor recommendations, click Setting up procedure codes.
· Print YTD Finance Charges, Late Charges, and Payments - Prints a year-to-date total of all finance charges, late charges, and payments. This option is only available if you select family walkout.
· Print Adjustments - Prints adjustments for the walkout date or the attending doctor's statement only. This option is only available if you select Walkout/Doctor's Statement.
5.   In the Walkout Date field, type a date.
Note: A walkout statement prints for one day. If you are printing a walkout for a previous date, you must enter the date that the treatment was performed.
6.   To add a note, type the text in the Message field.
7.   To save the note for other walkout statements, select Save as Default.
Note: Selecting Save as Default saves any settings, including the message, as the default for all other walkout statements.
8.   Do one of the following:
· Print - Print your selections immediately.
· Send to batch - Sends the statement to the Batch Processor.
Note: The walkout/doctor's statement contains information for patients to do their own insurance billing. This information includes the Social Security number (SSN), Tax Identification number (TIN), and state ID numbers.