Setting provider schedules
You can customize work hours, colors, and provider aliases for each provider in your practice. Provider setup information is stored on the file server, and the information is available to all computers on your network. Also, the providers in your practice will likely have different work and vacation schedules. For example, DDS1 may prefer to take lunch at 1:00 p.m., while DDS2 is out of the office on Wednesdays, and DDS3 may prefer vacationing in September, while DDS4 prefers June.
To set a provider's schedule
1.   In the Schedule toolbar, click the Setup button, and then click Provider Setup.
The Provider Setup dialog box appears.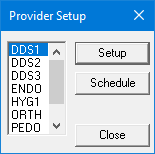 2.   Select the provider you want to set a schedule for, and then click Setup.
The Provider Setup dialog box appears.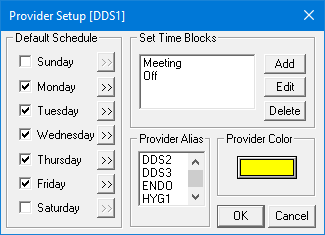 3.   Do the following:
· Clear the days that you cannot schedule this provider.
· Click the search button corresponding to the days you can schedule the provider.
The Set Time Limits dialog box appears.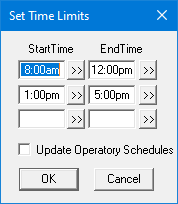 · Set the hours the provider will be available, and then click OK.
4.   Assign a unique color to the provider's appointments.
a.   Click the button under Provider Color.
The Color dialog box appears.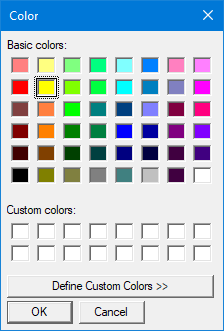 b.   Click the color that you want to assign to the provider's appointments.
Note: To add a custom color, click Define Custom Colors.
c.   Click OK.
Note: Be careful when choosing dark colors for providers because the black lettering of the appointment details may not be visible on a dark background.
5.   To close the Provider Setup dialog box and set the provider's schedule, click OK.
Note: For information on creating and using time blocks for Easy Day planning, see Setting up time blocks.