Employer List
The Employer List is a list of all employers, including employer name, address, and phone number. Also, there is an option to include the employed patients with each employer.
To generate the list
1.   In the Office Manager, click Reports, point to Reference, and then click Employer List.
The Employer List dialog box appears.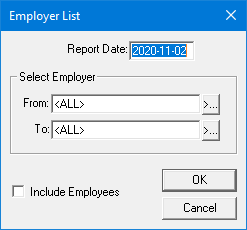 2.   Type the Report Date that you want to print on the report. The default is the current date.
3.   Under Select Employer, select the range of employers that you want to include by doing the following:
a.   Click the From search button and select the starting employer for the range.
b.   Click the To search button and select the ending employer for the range.
4.   To include a list of patients employed by each employer on the Employers and Employed Patients Report, select Include Employees.
5.   To send the report to the Batch Processor, click OK.